February 8, 2022

<!A HREF="http://www.jazzweekly.com/2019/04/thom-rotella-storyline/" TARGET="_blank">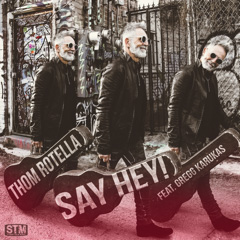 <!/A> Happy 2022 to everybody-can't believe it's already the middle of February! In spite of all the craziness I'm still in the music business . Last year I was inducted into the Niagara Falls Musicians Hall of Fame. It is such an honor to be along side my mentor and "2nd father" Tommy Tedesco, my guitar teachers and all the guys I grew up playing and learning with. You can check out my acceptance speech below.

I'm working on a number of music projects right now. (Probably too many-but 'hey" what is time for? I have a new Smooth Jazz single coming out on Valentine's Day called "Say Hey!". It's another collaboration with my good friend and talented guitarist/producer Chris Standring and features Gregg Karukas in his organ debut. It also has a great horn section arranged by my good friend Walter Murphy of "Family Guy", "Ted", "American Dad" and "5th of Beethoven" fame.

I reconnected with my old friend Tim Weston-another talented producer/guitarist and we're working on a followup to my 2019 release "StoryLine". I'm very excited about this music and getting to work with Tim. It's a concept album but the concept is a secret because it's so good we don't want anybody to steal it!!

Also, partially through a project of 60's songs in the style of my Christmas cds where I play all the parts on guitars and numerous string instruments-a trip down memory lane while I still have a memory….

I finished the first few tracks for a cd of solo guitar arrangements. It includes arrangements of standards that I've been compiling over the years and seldomly get to perform live because I get too nervous…yes I do.

And finally working on a straight ahead jazz 4tet followup-a little late-to my 2007 release "Out of the Blues" with my old friend and radio promo whiz Mike Hurzon…

Still loving music and I am inspired and challenged each day by this wonderful musical world that I'm lucky to inhabit and all the great musicians I get to play with.

Thanks to all of you that have been following me and those of you who are new to my music- you complete the circle and make it all worth while.

Thom




<!A HREF="http://www.jazzweekly.com/2019/04/thom-rotella-storyline/" TARGET="_blank">
<!/A> NIAGARA FALLS MUSIC HALL OF FAME
Induction Speech - July 2021

It's funny to me that this whole music thing started very early in my life and has just kept going. At 70 I still feel like I'm at the beginning! This induction into the HOF with so many of my friends, teachers and heroes has made me to stop for the first time and look back on all the great things that have happened and all of the incredible experiences a life in music has brought me. It took a lot of loving, giving people and experiences to help me get here.

First off my parents, Tom and Norma who supported me no matter how crazy I sounded to them. They spent years saving money for my college education and when, after a few semesters of music school, I decided to quit and go on the road with some lounge band, they didn't even blink. (By the way Tony Finelli was the keyboard player that got me into that band--thanks Tony).

After I left the road and came back to NF I started gigging around town with Joe Calato, Hank Hamam, Lou Morrel, Frank Rotella and sitting in at the OH with Johnny Hartsman. I was making $80 a week and living with my parents in the bedroom I grew up in. My dad sensed I was getting antsy and one day said to me "you seem ready to go to LA." Well, within a month we were on a cross country road trip into the unknown... Read more.



<!A HREF="http://www.jazzweekly.com/2019/04/thom-rotella-storyline/" TARGET="_blank">
<!/A> "Hard to believe there was a time when digital was new and cutting-edge. And we, the promoter/programmer/dj/music fan would just have to check it out. That was the attraction I felt to this new record label that a friend of mine was telling me about one day in 1986: DMP, which stood for Digital Music Products. I was intrigued by everything about DMP, including the fact that it was founded by a sound engineer, Tom Jung, whose previous enterprise (Sound 80) was also on the leading edge of music recording technology.

My friend pointed me in the direction of a DMP artist he really liked: Flim and the BB's. At the local record store I was able to pick up a copy of their debut CD, Tricycle, which I came to find out later was the history-making very first jazz compact disc--recorded on the DMP label.

Then came the watershed year of 1987. In Chicago, WCLR launched "The Sunday Lite Brunch" show featuring contemporary jazz and New Age music in February of that year. Also that month The Wave made its debut in LA. Flim and the BB's made the playlist for both. And there was some buzz starting to build for the DMP label.

It took a couple years of rocky ratings, but the smooth jazz format--called New Adult Contemporary back then, as we all remember--finally started to show signs of its potential in late 1989. Digital Music Products, enjoying some healthy momentum of its own at the same time, was introducing us to other contemporary jazz artists who had been recently signed to the label. One of those artists was a guitar slinger from Niagara Falls, New York: Thom Rotella.

On August 18, 1989, WNUA added a track from Thom's DMP CD Home Again. "Gonna Love You" (https://www.youtube.com/watch?v=BD-2-OIpqHI) was a hooky groove that instantly caught my ear when I heard it for the first time on the station. The deejay who was on at the time, Denise Jordan-Walker, commented on how she was dancing to it in the studio. That was my introduction to the music of Thom Rotella--nearly 30 years ago.

All this came back to me as I was adding Thom's new track, "Eddie's Ready," to the AccuRadio smooth jazz playlist this weekend. Welcome back, Thom! It's been a long time, but I've never forgotten about you.

(Thom's new release prompted me to go back and re-listen to Home Again. Little did I realize back in 1989 that one of the tunes on the disc, "Oriental Flower," was written by Tommy Tedesco--he of the legendary LA session band, The Wrecking Crew. And I've come to learn that Tommy Tedesco served as a mentor to Thom Rotella in those days. What a surprising and fascinating nugget about Mr. Rotella!)" - AccuRadio




"Mainstream guitar master Thom Rotella mixes moods of Wes Montgomery with CTI soul on this fun session with a core team of Jimmy Branly/dr, Trey Henry/b and a rotating guest list of Bob Sheppard/bcl, Tierney Sutton/voc, Mitch Forman/key, Nick Mancini/vib and Dan Higgins/bcl.

"Rotella is in a gloriously hip mood on the hip "Oddball" and shuffling "Take It With You" and gives an updated version of Montgomery's "Four On Six" with a slick harmonization. His nylon strings are classy on a spacious "Besame Much" and is not adverse to adding some spacy effects as on "Dawn Is Here." Soulful moods are in abundance with Forman on the Rhodes mixing it up with some bass clarinet on "When I Fall In Love" and the pulsating "Storyline." Mancini's vibes are blue on "'Round Midnight" and the gang gets psychedelic for a synthy-bop take of The Beatles' "Come Together." Lots of clever ideas mixed with vintage moods." - George W. Harris, Jazz Weekly



Considering the dynamic sweep of styles on Thom Rotella's wildy mood-swinging new album, it's clear that he made the right choice to set aside his initial instinct to name it after his atmospheric soul-jazz cover of Monk's "'Round Midnight" and call it Storyline instead.

For the versatile guitarist, It's a way to express the reality that even without words, instrumental artists use melodies, harmonies, grooves and ensemble interaction to weave narratives that tap into what's in their hearts at any given moment. Easing effortlessly from contemporary pop instrumental/smooth jazz to more traditional vibes, Rotella's been weaving those stories for over 30 years. Although the bluesly, lightly funk opening track "Odd Ball" (featuring the shimmering vibe harmonies and solo by Nick Mancini) has been promoted to smooth jazz radio, the eclectic collection hits the sweet spot between strict pop ventures and heavier jazz.

Thom's inimitable way with re-imagining classics allows us thoughtful peeks at his multitude of influences. These range from deeply soulful, vibes-enhanced stroll through Wes Montgomery's "Four on Six" and a brooding, bluesy twist on The Beatles' "Come Together" (featuring bassist Trey Henry) to the balmy Latin jazz ("Besame Mucho") and an ambient, crystalline prism through which we can re-experience the Great American Songbook standard "When I Fall In Love."

Keen on weaving his personal tales between those transcendent interpretations, Rotella showcases his chops as a composer on some of the album's most engaging tunes, including the aforementioned "Odd Ball," the coolly fluid and easy swinging "Storyline" (powerfully punctuated by drummer Jimmy Branly), the stark, moody "Monkey Bisness" (featuring a dazzling clarinet solo by Bob Sheppard) and the ambient psychedelic jazz exercise "Nuze Bluze."

Also of note is the subtle way Rotella uses the vocal brilliance of Tierney Sutton, as a dreamy, sensual texture behind his soulful lead lines on "Cristo Rendentor." Rotella's always been an emotionally impactful artist, but true to his title, it's wonderful to see him continue developing as an insightful musical storyteller. - Jonathan Widran, The JW Vibe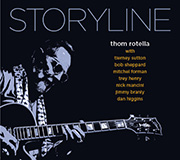 Well 2019 is off to a busy start...I released my first Smooth Jazz radio single in 12 years on January 21 (proud to say it's MLK Day) and it seems to be off to a good start at radio... finished up my first jazz cd in 10 years, "Storyline" which comes out February 18-also it's my 13th cd-I was born on Friday the 13th so I consider it a lucky number...After that I start on the score for an independent movie titled "A Case of Blue" with dear friend and talented composer Victoria Dolceamore...I'll be guitarist and friend Terry Wollman;s guest on his podcast "Making It!" on Feb 5.....Back at the Baked Potato with my band featuring Ernie Watts on March 23 and on April 23 am doing a cd release gig at Bogey's... also working on a followup single for spring/summer release with fellow guitarist Chris Standring producing...and am working on a followup to "Storyline" for a 2020 release... this year is the 30th anniversary of the release of my CD "Home Again" and am trying to figure out some kind of musical celebration... still having a great time with at Topanga Bistro one Friday a month with old friend bassist Ken wild and various great drummers like Kendall Kaye and Christian Euman.